Winter Texans and Snowbirds
Become a Winter Texan and Spend the Winter in the Mild Climate of Central & South Texas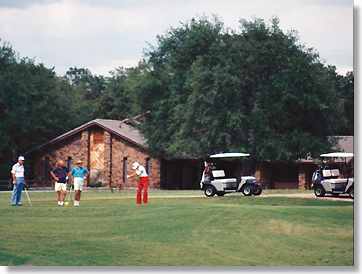 Play golf year round in our area
Mild Climate in Central Texas
Inexpensive Living for Snowbirds
Friendly People in Texas
Beautiful Scenery & Wildlife
Golf & Boat Year-round in Texas
Want to get away from the ice and snow and the biting, windy weather up north? Tired of being cooped up in your home most of the winter? Why not come down to our warm, inviting climate for the winter. Winter Texans love our area!
Central Texas has beautiful recreation and tourist areas ideal for Winter Texans. Everything is here, ready for your winter visit. We have houses for rent, cabins for rent, condos for rent, RV Parks and more; and they are priced reasonably.
Our Mild Climate
Leave your snow shovel behind. You will not have to worry about the snow in central Texas. About once every six or seven years we may get 1/2 inch of snow and it melts quickly. You don't need to worry about ice either. The lakes and rivers never freeze over. The lakes have a tendency to stabilize the temperature, and homes close to the lake can experience temperatures up to 5 degrees warmer than surrounding areas in the winter. The daytime temperatures in December and January are usually in the 50s to 70s depending on which way the breeze is blowing. Winter Texans love our winter climate.
Inexpensive Living
You will find the prices in our area to be reasonable. We do not take advantage of tourists here. You will be paying the same low prices as the locals. Our auto gas prices are usually about 20 cents cheaper than other areas of the country. Eating in our restaurants is very reasonable. You can expect reasonable prices in renting a cabin, condo or house for the winter. Winter Texans receive much cheaper rental prices in the winter than the summer prices for the same properties.
Friendly People
You have heard of "Southern Hospitality", haven't you? Southern Hospitality is a reality in central and south Texas. The people here are friendly! As you are driving down the highway, don't be surprised if people wave at you. This is a popular retirement area and people have moved here from all over the country. It seems like just about everyone is from somewhere else. No one is a stranger here! You will find events and potlucks put on by the local towns for the Winter Texans. You are welcome here!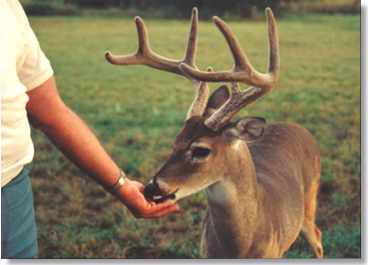 You will see plenty of deer in our area.
Beautiful Scenery and Wildlife
One of the nicest things about our area is that it is beautiful. The winding roads through the hills and lakes, the beautiful live oak trees, and small towns in the area add a lot to the enjoyment of the area. The live oaks don't lose their leaves in the winter, so there is plenty of greenery throughout the winter to enjoy. Quite often the grass is green in the winter, depending on the rainfall. The wildlife is abundant. You can enjoy dozens of species of birds, plenty of deer, and other little creatures.
Tourists also enjoy an occassional shopping and sightseeing trip into Austin, our state capital, and San Antonio.
Cabins, Resorts and RV Parks
Kingsland, TX
Charming cottage on nine private lots with no close neighbors. One bedroom with new Q Helix mattress. Two baths, shower, and bubbly tub. Fully furnished kitchen, linens for bed and bath. Trundle sofa in living adds two twin beds. Living room overlooks East deck. Fireplace, pergola, covered porch. Stained glass windows in living and bedroom. Visit our built-with-love artistic home of 12 years (we live elsewhere now) and receive one complimentary on-site massage by LMT with 23 years experience.
Located on scenic Lake Buchanan near the beautiful Fall Creek waterfall and Fall Creek vineyards.
Located on scenic Lake Buchanan near the beautiful Fall Creek waterfall and Fall Creek vineyards. The View, the Fun and Amenities all voted BEST on the Lake! You can have it all at Hi-Line Lake Resort with Cabins and RV sites for everyone --Waterfront cabins with living room, kitchen, and dining table, Waterfront RV sites, pull-thru RV sites in the Resort, Waterfront lodge sleeps 20, and Captain's House sleeps 8. Fishing everywhere... At the famous HiLine Crappie House, off the pier, or at the beach. All the fun and convenience you could want with wifi, pool, beach, outdoor games, rec center, waterfront viewing deck, BBQ pits, general store, and restaurant. Dine-in or Order-to-go at Krab Kingz on the Lake (krabkingzofhiline.com).
on the west side of Lake Buchanan
9 cabins, one house that sleeps 16, Forty-one RV spaces, large swimming pool, basketball court, volleyball, horseshoes and washer pits, giant chess, recreation/meeting room, boat ramp, waterfront for fishing.
Lake LBJ - Kingsland, TX
This vacation lake house has it all! Great water, boat dock with electric lift, waterfront deck, large covered porch facing the lake, game room, foosball, air hockey, fireplace, BBQ, 2 fire pits, and more. 2, 849 sq. ft. with 4 bedrooms, 2.5 baths, sleeps 14 in beds.
Colorado arm of Lake LBJ
Can't send the kids to summer camp? Have your own camp at Moonlight on the Colorado. Also available for discounted monthly rates. Waterfront lake house with great water on Lake LBJ in Kingsland, Texas with boat dock, fishing pier, covered porch facing the lake, and more. 3 bedrooms and 2 baths can sleep up to 10 people. Minimum rental of one month.

For information on this Website

Copyright © Highland Lakes Web Pages, LLC